2
Nov
2019

Birmingham, UK

The Crossing

19.00pm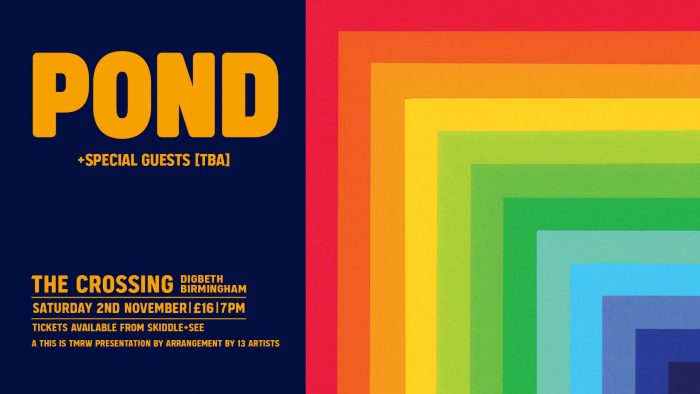 THIS IS TMRW
PRESENTS
SAT NOV 2ND
THE CROSSING
POND
+ SPECIAL GUESTS
POND – http://www.pondband.net/
POND who came into being amid the Perth scene which also spawned Tame Impala, have perhaps thus far been perceived to inhabit a hazy world of daily hallucinogen ingestion and all-eclipsing stoner apathy. Not so. In '15, Allbrook penned a thoughtful essay entitled 'Creative Darwinism: Pretty Flowers Grow In Shit', revealing how geographical isolation had fired his peer group into making inspirational music together.
"We dedicated ourselves to being these brain-burrowing, commune-dwelling psychedelic lunatics," says Nick, who relished the idea of feeding the whole history of pop into a giant blender as an experiment. Though majoring in "strobe light-strapped-to-your-forehead, chain-me-to-a-bed psychedelia", he says there were other key influences; as diverse as Michael Jackson, Beastie Boys and Led Zeppelin – "hip hop, super-pop and '70s metal", he chuckles.
POND started off by releasing three digital/limited-vinyl albums in quick succession circa 2008-10 ('Psychedelic Mango', 'Corridors Of Blissterday', and 'Frond'), which few people got to hear outside Australia. POND only went genuinely public with 2012s 'Beard. Wives. Denim' – a pulsating psych-rock epic, whose alive-in-the-room methods diametrically opposed Parker's circa 'Lonerism'.
Kevin Parker has, of course, long since moved on to concentrate on Tame Impala, but he returned to produce this new record, at his studio in Fremantle, Western Australia. "It's really close to the beach there," says Nick, "so for three weeks in early '16, we made an everyday work schedule of going in and fucking about with the songs, and layering and using all the shit that we had, then going to dip our bodies in the ocean, then coming back and doing some more".
After those tunes, any right-thinking listener would cut POND the slack to do as they please – and this they pretty much do, from 'Edge Of The World's' dreamy speculation on Perth's out-on-its-ownness, via 'A/B's' skittering mania, through to the title track's unnervingly blissful eco-conclusion. Perfectly measured in its lurching between moods, relevant in its synth-pop/guitar-psych balance, and bang on the money in its polemical anxieties – here, at last, is the classic killer POND album.
DOORS: 7PM
TICKETS: £16
AVAILABLE HERE:
https://www.skiddle.com/whats-on/Birmingham/The-Crossing-Digbeth/Pond/13527794/