1
Nov
2019

Birmingham, UK

The Crossing

19.30pm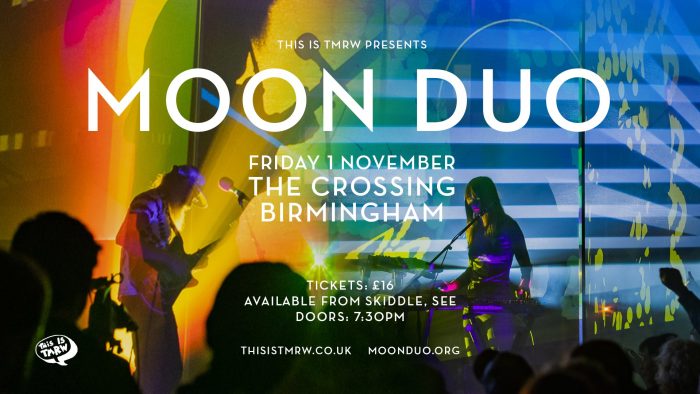 THIS IS TMRW
PRESENTS
FRI NOV 1ST
THE CROSSING, DIGBETH
MOON DUO
We're delighted to welcome This is Tmrw faves Moon Duo back to Birmingham for a very special show at The Crossing. This show will feature the bands most impressive stage show to date which, having seen it, will blow you all away.
Moon Duo have announced details of a new album 'Stars Are The Light', set for release on September 27th via Sacred Bones. The album's title track is streaming online now and the band have also announced North American & European touring plans for this Autumn.
The follow up to 2017's two-part exploration into the transcendental, 'Occult Architecture', 'Stars Are the Light' is Portland-based psych explorers Sanae Yamada and Ripley Johnson's luminous seventh album. It marks a progression into significantly new territory and sees them synthesize the abstract and metaphysical with the embodied and terrestrial. The album has a sonic physicality that is at once propulsive and undulating; it puts dance at the heart of an expansive nexus that connects the body to the stars, illustrated exquisitely on the album's sparkling title track.
Listen to "Stars Are The Light": https://youtu.be/bYXVk4cEbkY
Taking disco as its groove-oriented departure point, 'Stars Are the Light' shimmers with elements of '70s funk and '90s rave. Johnson's signature guitar sound is at its most languid and refined, while Yamada's synths and oneiric vocals are foregrounded to create a spacious percussiveness that invites the body to move with its mesmeric rhythms. With Sonic Boom (Spacemen 3, Spectrum) at the mixing desk in Portugal's Serra de Sintra, (known to the Romans as "The Mountains of the Moon") the area's lush landscape and powerful lunar energies exerted a strong influence on the vibe and sonic texture of the album.
On embracing disco as an inspiration, Yamada says, "It's something we hadn't referenced in our music before, but its core concepts really align with what we were circling around as we made the album. Disco is dance music, first and foremost, and we were digging our way into the idea of this endless dance of bodies in nature. We were also very inspired by the space and community of a disco – a space of free self-expression through dance, fashion, and mode of being; where everyone was welcome, diversity was celebrated, and identity could be fluid; where the life force that animates each of us differently could flower."
DOORS: 7.30PM
TICKETS: £16
AVAILABLE HERE: https://bit.ly/2NvXjZh