29
Nov
2019
30
Nov
2019

Birmingham, UK

The Crossing

20.00pm - 03.00am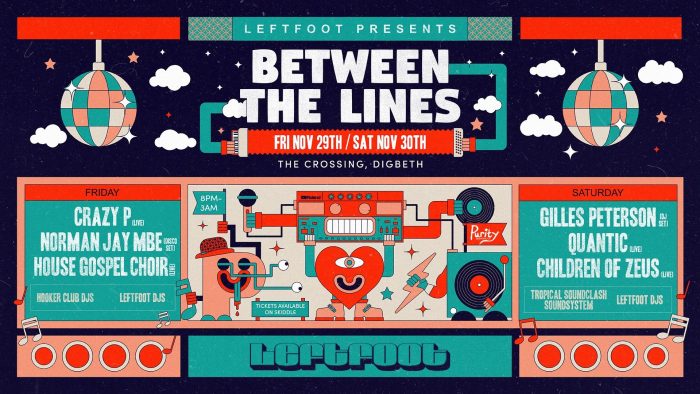 LEFTFOOT PRESENTS BETWEEN THE LINES
FRIDAY NOVEMBER 29TH
Crazy P, Norman Jay MBE, House Gospel Choir, Hooker Club DJs, Leftfoot DJs.
SATURDAY NOVEMBER 30TH
Gilles Peterson (DJ set), Quantic Music (Full Live Show), Children of Zeus (Live), Tropical Soundclash DJs, Leftfoot DJs.
DOORS: 8PM-3AM
FRIDAY TICKETS > http://bit.ly/BetweenTheLinesFri
SATURDAY TICKETS > http://bit.ly/BetweenTheLinesSat
WEEKEND TICKETS > http://bit.ly/BetweenTheLinesSat
After 12 months working incredibly hard behind the scenes, we are delighted to finally release details of our brand new event 'Between The Lines'.
We wanted to create a unique party where the lines between genre and style are blurred, where hip hop & soul sit alongside tropical music, where disco meets house music and so much more. We've strived to create something that truly reflects all the different types of music that we love.
Kicking off the weekend on the Friday, we'll be joined by one of the hottest live acts in the world at the moment – Crazy P. They have shown everyone how you can elevate electronic music to a higher place with a full band and a front lady with charisma and sass by the bucket load.
Joining Crazy P on the Friday will be a UK legend that needs little introduction… Mr 'Good Times' himself, Norman Jay MBE. There is a lot you can learn about UK club culture by witnessing one of Norman's sets. As a one-off we've asked Norman to focus on disco for this occasion – his self confessed favourite genre. You can expect an education in the history of uplifting music free of inhibitions, spanning from the sounds of Paradise Garage, The Loft and beyond.
Also on the Friday you'll meet the Choir that House built… House Gospel Choir is the place where spirituality and the euphoria of the dancefloor come together. The late great Frankie Knuckles once called house music: 'church for people that have fallen from grace'. Anyone who has been caught up in the rapture of a true house classic can testify to its power to unify and uplift. We cannot wait to hear HGC's interpretations of many house classics on a huge stage!
Opening the live proceedings on the Saturday will be the mighty Children Of Zeus bringing some soulful UK Hip Hop to the BTL stage. We've wanted to host them for a long time and we can't think of a better occasion for their Leftfoot debut.
They'll be joined on the Saturday by the prolific and multi-talented Will Holland aka Quantic. He'll be bringing a brand new live show to Birmingham in support of his Atlantic Oscillations LP. Those of you who've followed Leftfoot since day one will know how much we love Will's music.
Headlining the second night is our long time inspiration & friend Gilles Peterson. We couldn't think of a better Saturday headliner – Gilles Peterson's Worldwide show has been part of our musical diet for over two decades and has helped shape our tastes many times over. As ever, expect a worldwide set taking in hip hop, house, bass, tropical, jazz funk, disco, brazilian, cumbia and so much more.
The Birmingham residents / brands are the final piece in the puzzle for us – the ones that really understand the local scene and audience. It's important to us to represent some of our favourite local brands and acts as part of Between The Lines so we're delighted to introduce Hooker Club and Tropical Soundclash who'll be spinning alongside Leftfoot DJs.
For those of you that don't know The Crossing, it's a criminally under-used state of the art venue that's part of South Birmingham College in Digbeth. it offers some of the best sound & lighting in the city and as the room is a complete black box it's the perfect canvas for our visuals and immersive club experiences.
Join us for 2 wonderful days of (in our opinion) the BEST music you'll find anywhere that weekend. Capacity is strictly capped at 600 tickets per day, so we're expecting a sell-out.
See you there.